Memorial and Tribute Scholarship
The Junior League of Sioux Falls is committed to supporting the development of women in our community. To assist young women as they pursue their university education, the League annually awards the Memorial & Tribute Scholarship in the amount of $500 in collaboration with the Sioux Falls Area Community Foundation.
2022 Award Recipient Elena Burgwald
2021 Award Recipient Avery Dooley
2020 Award Recipient Katy Liester
2019 Award Recipient Erin Denevan
2018 Award Recipient Eleah Williams
2017 Award Recipient Jillian Stamp
2016 Award Recipient: Hannah Smith
2015 Award Recipient: Kristina Wagner
2014 Award Recipient: Madelyn Barr
2013 Award Recipient: Jordan Larsen
2012 Award Recipient: Kaylee Schirado
2011 Award Recipient: Jenna McLaughlin
2010 Award Recipient: Jenna Headrick
2009 Award Recipient: Rachel Sustad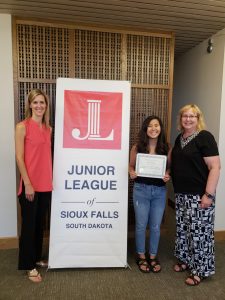 Applicants for this scholarship must be female; reside in Minnehaha or Lincoln Counties of South Dakota; be a graduating senior from an accredited high school or a home school program; and planning to attend an accredited college, university, community college, vocational school, or technical school (excluding institutions whose academic programs are conducted primarily online or via correspondence). Additionally, applicants must have a minimum ACT score of 23 or a minimum SAT score in the math and critical reading components of 1060.